Support Center
Enter your question in the box below to get started, or pick from the listed items.
What do you need help with?
Name
Are accounts deleted due to inactivity? I'm going in holidays and won't be able to connect for a few weeks, what should I do?
INACTIVITY
DELETE ACCOUNT
INACTIVE
PINNED

Nothing needed to do in that case. Accounts are not deleted in case of inactivity, they're just sitting there, waiting for you to come back... or not.
EASTER EGGS
FUN
HIDDEN FEATURES
Some known Easter Eggs you might find throughout the site:

Chat room:
Try to tip anyone with 420 FGN: /tip rainmaster 420 FGN
Try to tip anyone with 421 FGN: /tip rainmaster 421 FGN

Admin page:
Visit this page: https://focusgames.io/admin
How can I check the status of my withdrawal? I didn't receive my $$, what's happening?
Keep in mind that withdrawals are processed as follows:
1- Amounts are temporarily transferred to your Focus Gaming Network MicroWallet's account after you confirm the withdrawal;
2- Email confirmation is required after each withdrawal;
3- Withdrawals (from MicroWallet to your personal wallet) are processed only if the total amount pending for withdrawals reach at least 20,000 FGN;
4- Withdrawals (from MicroWallet to your personal wallet) are processed every day at midnight UK time only;
In case of issue, and before contacting the moderation team, please make sure to:
1- Make sure your wallet is TRC-20 token compliant. We recommend using TronLink;
2- Check the status of your withdrawal by checking your Focus Gaming Network MicroWallet's status, available here;
3- If withdrawal has been processed and you haven't received anything, please:

a. Check your address in a tron blockchain explorer, for example tronscan.org. Using this, can you see your tokens?

b. Double-check that the address you fed for withdrawal is the same as your personal wallet address.
How to create a personal wallet for my FGN tokens? Get started with TronLink!
TronLink is the most popular solution when it comes to interacting with the TRON blockchain. It is a completely free of charge application and as powerful as it is simple! This article is a step-by-step tutorial for the installation of the software and the creation of our first wallet. You will end up with a personal wallet where you can store your TRX coins (TRON), and all TRC-10 and TRC-20 tokens running on the TRON blockchain, FGN being one of them.
Presentation
TronLink is a community-developed TRON wallet application, and it is recommended by the TRON foundation. It is by far the most trusted and most popular alternative when it comes to storing TRX and interacting with the TRON blockchain. Indeed, it has the particularity to be much more than only a wallet for TRX, but it is a real gateaway to the whole TRON ecosystem. This includes interaction with all the possible coins running on TRON (TRX, TRC-10 and TRC-20 tokens) as well as a seamless integration of your wallet into the many dApps built on TRON, including DEX (Decentralized Exchange), DeFi (Decentralized Finance) applications, or games for example.
TronLink comes in three different flavors, a Chrome Extension, an Android app and an iOS app. 
Installation
For desktop, use of the Chrome extension. For mobile, both an Android version available in Google's Play Store and an iOS version available in Apple's App Store.
Chrome extension
On desktop, TronLink works as an extension to the internet browser, Google's Chrome or chromium-based browsers. Therefore, Brave browser, which is a great alternative for crypto lovers is also supported.
The Chrome extension is very similar to what Ethereum's users get with the very handy MetaMask wallet.
Visit the Chrome Web Store and click on Add to Chrome to install the extension. 
A pop-up will ask you to confirm as it needs permission to read and change all your data on the websites you will visit. Don't freak out, that's what makes the interaction between your wallet and the decentralized applications possible. So we do confirm and click on Add extension.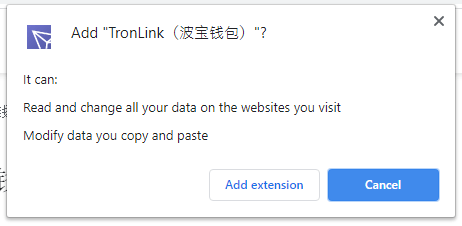 Once downloaded and successfully installed, you'll get another pop-up thrown at you, confirming that everything went properly.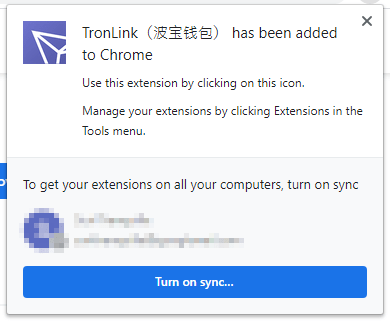 You can close this window and you will notice that the TronLink icon appeared just right next to the internet address/search bar.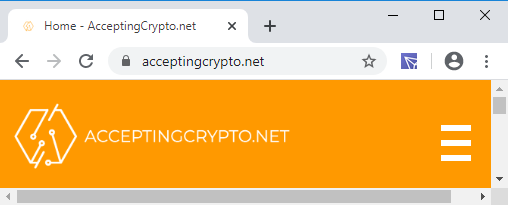 Mobile app
When it comes to the app for mobile devices, the installation is even more straight forward. Either trigger your Google Play or App Store, look for TronLink, click and install!
Note that on Android, TronLink is named TronLink Pro. No problem with that, it's only the name of the newest version that replaced an earlier version of TronLink.
Create a New Wallet
 Whatever the version of TronLink you chose to install, from there the method and the visuals should be the same, whether you're on desktop or mobile. 
To access TronLink, either launch the app installed on your mobile, or click on the TronLink icon on your internet browser.

First launch
When you open TronLink for the first time, the application will ask you to set up a password. Regular rules for password apply, it has to be strong, not easily guessable from other people and obviously should be known and stored securely by yourself only. This password will eventually be asked when you'll need to transfer your coins or proceed to any critical operations with your wallet.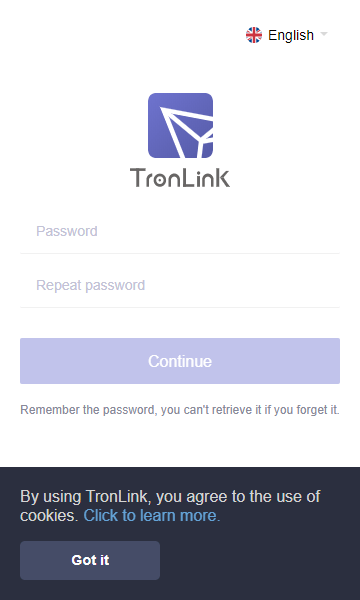 Note for advanced users: this password is used only to encrypt locally on your machine the seed and private key of the wallet. Say if you happen to forget the password but backed up properly the seed and/or the private key of your account, then you'ld be able to retrieve the coins and all the tokens stored on your address.
Wallet Creation
Right after setting your password, Tronlink will ask you what you want to do. Select Create to create a new wallet.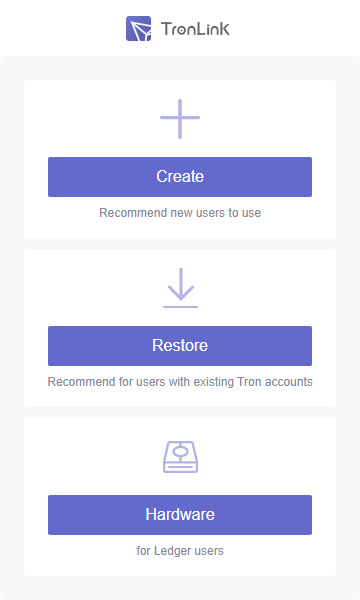 It asks you then to name the wallet. This is not extremely important, it's only a way to make out which is which in case you have several wallets.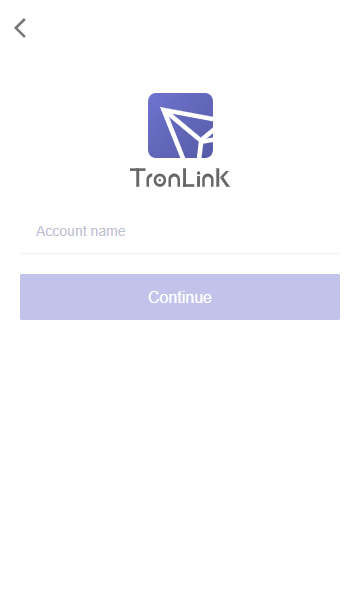 Backup your seed
TronLink will then ask you to write down a mnemonic, also known as a seed or a pass-phrase. You might want to back it up very safely, where it cannot be stolen by a third party. So this is definitively not a screenshot stored on a computer, but an old pen and paper for example. The seed will be your only way to retrieve yo
What are the site currencies? How do they work?
FGN
FOCUS TOKEN
EXP
CURRENCY
COIN
VIP
STREAK
EXP
PINNED
The site makes use of 5 currencies, and it is very important to understand how they work if you want to make full use of them. All of them can be tipped, rained, or played with.
Your balance for each of them can be quickly checked by hovering the mouse on top of your level bar, left to your username, on the top ribbon (PC only). Also, you can head to your wallet page to have a quick overview of all your assets.
As we'll see below, all of them have their unique particularities:


- FGN
This is the main currency of the site, and the one you'll need if you want to "cash out".
FGN stands for Focus Gaming Network, and it is an actual crypto-currency. It is a TRC20 token and running on the TRON blockchain.
That means you can trade FGN tokens outside of this site, on a decentralized exchange.


- FGBUX
FGBUX is the currency you get while doing surveys or offers at the offerwall. FGBUX could be seen as a stable currency pegged to the USD.
As such, you get rewarded the same amount of FGBUX while going through the same offer. You are not affected by the fluctuation of FGN. In the other hand, the exchange rate of FGBUX against FGN will fluctuate over time, depending on the actual value of FGN.


- EXP
EXP stands for EXPerience, it is the currency that will define your experience level. The more you have, the higher your level is. And the bigger the rewards. And yes, that's right, you can also lose it all! Be wary of Rambo!


- STREAK
STREAK: is the currency you'll be spending mostly at the store. It can be exchanged with items that will increase your rewards. STREAK is called streak for a reason. Make sure you
Visit your streak page to read more about streak levels and how it can benefit you.


- VIP
VIP is the currency needed to get VIP status and unlock premium features. This currency decreases over time, at the rate of 1 VIP coin every second. You can purchase VIP coins by purchasing your VIP status.
To apply to VIP status, check here!!
To know about all VIP benefits, go this way.
If I complete an Offer on a Golden Offerwall and they credit after the day ends, will I still get the bonus?
OFFERWALL
GOLDEN
STREAK
REWARD

Due to the way Offerwalls and crediting works, we have no control over the time it takes to credit an Offerwall reward into your account. Some Offerwall providers will credit instantly or soon after completing an offer/survey, while others can take a few days to longer. Different providers and offers work in different ways.

The Golden Offerwall bonus is only applied to a successful credit received from the provider on the same day. If the credit notification is sent to us after this, then it's unfortunate but you will not get the extra bonus or Streak Activity at this time. This is something that we are continually researching into and working to make better in the Golden Offerwall user experience.

An Offerwall is a "wall" of offers. Offers require you to complete various tasks such as fill out a survey or download an app, and then provide you with a reward.
Welcome to FocusGames Beta

The beta means things do not work completely as expected and active development is underway.
How to get help
Step 1 - Enter your question on the left
Your question is most likely answered here already, along with other useful info you may not have known about.
Step 2 - Ask in Chat
The question you are asking is most likely known by the rest of our community already. Ask them, they won't bite!
Open the Chat
Step 3 - Open a Support Thread
If your question is not in the FAQ and the chat does not know, you can open a Support Thread in the Forum and a user or member of staff can provide further assistance with your query.
Remember, we won't be answering to questions which are in the FAQ.
Click here to open a Support Thread